[sgmb id="1″]
Earlier this week, Clutch announced the leading agencies and development firms of New York City in 2017. A B2B ratings and research firm, Clutch covers agencies and developers spanning multiple cities and countries, with a huge bit of companies hailing from New York. Progressing research highlights nine industries particularly. Being one of the fastest growing agencies in 2017 & recognition of high value of work over the internet recently, HTML Pro manages to show its presence in the lists of Top 10 Best & leading Digital agencies / SEO Services Firms respectively!
Top New York Digital Agencies:
The leading digital agencies in this category are: Blue Fountain Media, Momentum Design Lab, SEO Brand, R2integrated, Moburst, Greater Than One, York & Chapel, Blue Water, Socialfix Media, AMP Agency, HTML Pro, Digitalux, MultiVision Digital Production, Definition 6, and The Mechanism.
Top New York SEO Services Firm:
The leading SEO agencies in this category are: SEO Brand, SEO Image, Gvate, Clever Solution Inc., CommonMind, Liqui-Site, Trace Media Marketing, R2integrated, Digitalux, HTML Pro, AMP Agency, PBJ Marketing, 3Q Digital, Greater Than One, and Vector Media Group.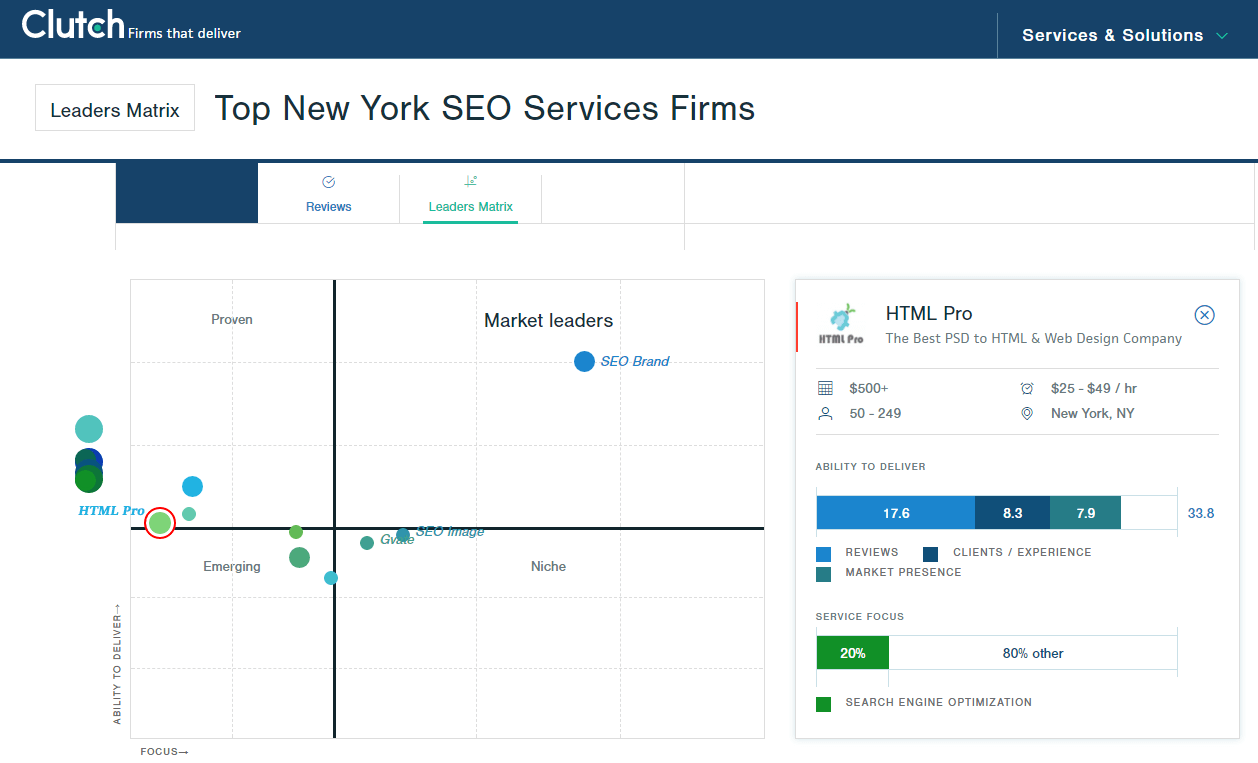 "New York City is known for being a global hub for advertising, design and innovation. For this reason, it can be incredibly difficult for agencies to stand out among their competitors," said Jenna Seter, business analyst at Clutch. "All of the companies featured today have accomplished exactly that – proving themselves as leaders in their industries as a result of their commitment to clients, passion for their work, and ability to generate results."
"Clutch identified the best agencies and developers in New York based on a long-standing methodology that maps service providers' industry expertise against their ability to deliver quality results for clients. Companies featured on Clutch are evaluated on their market presence as demonstrated by the services they offer, clients they serve, and examples of quality projects they've completed. Companies are also evaluated by their clients directly through firsthand interviews conducted by Clutch analysts, which are published as reviews on their company profiles on Clutch.co.
Clutch's research is ongoing. All firms interested in being featured in the research are encouraged to apply through the Clutch website. Upcoming press releases will highlight industry leaders in the UK and Canada.
The full research can be found at:
 https://clutch.co/agencies/new-york/leaders-matrix
https://clutch.co/agencies/branding/new-york/leaders-matrix
https://clutch.co/pr-firms/new-york/leaders-matrix
https://clutch.co/agencies/digital/nyc/research
https://clutch.co/agencies/social-media-marketing/new-york/leaders-matrix
https://clutch.co/seo-firms/new-york/research
https://clutch.co/agencies/ppc/new-york/leaders-matrix
https://clutch.co/developers/new-york/leaders-matrix
https://clutch.co/app-developers/nyc/leaders-matrix "
Source: Clutch
HTML Pro is helping Small Medium Enterprises, E-Commerce Businesses & Web Agencies with Web design, SEO and HTML coding services. Team's Expertise also includes existing website maintenance & implementing Content Management Systems at affordable rates. With 100+ positive reviews, standardized workflows, & emerging list of clients & employees, HTML Pro is proud to rank among the Top 10 NYC Digital Agencies for 2017 & truly appreciate the efforts of all the stakeholders.