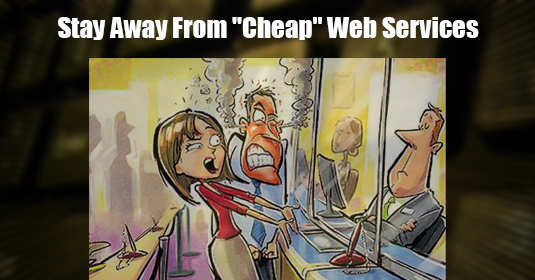 Are you going to launch your own business website? Definitely you are in process to hire professional, reliable and experienced web design & development company. Usually people search with these keyword "cheap web design company" or "cheap web development agency" and they click on top 10 search results and finalize one company. While choosing a web agency every business owner should not just focus on "cheap service" there are lots of other things to consider.
Reasons to Neglect "Cheap" Web Development Services
Their Work Is Also Cheap:
We all want to get quality products and services at affordable rates but when this cheapness goes beyond the limits definitely we can't get quality products and services. Same with web development, if a company is claiming to provide a website between $50 to $100 what you are expecting from that company? Definitely you have to compromise on quality and if you can take risk on quality you are not a good business man. Websites are like online shops therefore these shops should be perfect in all aspects.
They Don't Know the Meanings of Quality:
I wonder when I read these kinds of offers like get PSD to HTML service just in $5 per hour. How it possible if they are providing high quality web services? Affordable PSD to HTML conversion service starts from $25 per hour. Ever you feel why world top and best web development companies considered as best? Answer is simple "because of their quality of work". Why top companies never compromise on quality? Because they don't want to destroy their goodwill.
You Are Paying For Bugs:
Professional website development companies have special department of quality assurance where they test website before delivering to clients. In this department they find out bugs and fix them. That service will make it sure that they are providing bugs free websites to their clients. In other hands "cheap companies" don't have these kinds of departments or services. Therefore they just deliver what they develop, without testing and quality assurance. It means you are paying for bugs not for quality.
You Are Wasting Your Time & Money:
When you go with high quality web services you save your time and money because you don't have to invest time in finding the bugs and errors. Finding bugs is headache of the service providers. But when you go with cheap services you have to find out the bugs which take too much time and we all know that time is money.
Conclusion
You Should Hire Quality Services:
Quality service doesn't mean that you have to pay too much but it means you can't get a business website just in $100 or PSD to HTML conversion service just in $5 per hours. You should search top and high quality web agencies and then compare their services and rates with each other. It will be easy for you to find the best one.
At HTML Pro, we offer high quality and reliable web design & development services at affordable rates. Our PSD to HTML services per hour rate is $25 with 100% satisfaction. So if you want to get a best business website without any bug your first priority should be www.HTMLPro.net
Give us a call at +1 (347)308-5764 or send us email at contact@htmlpro.net to start a new experience of reliable, high quality, flawless and bugs free web services.